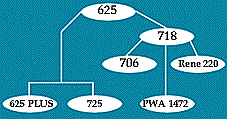 IMPORTANT INFO
Electronic Final Manuscripts Due to TMS
June 17, 2005

Welcoming Reception
October 2, 2005
At this early date, these deadlines may be delayed marginally. Also, there will be authors who will still submit their papers for the Symposium Proceedings via a typed manuscript that follows the same format printed in the previous five symposium volumes.
Registration
Superalloys attendees, including authors, presenters, and session chairs, are required to register. Full conference registration includes the welcoming reception, coffee breaks, conference luncheons, access to the technical sessions, and a copy of the proceedings.
Student registration includes the welcoming reception, coffee breaks, and access to the technical sessions.
Badges must be worn to gain access to the technical sessions and social functions.
Advanced registration is now closed.
On-site registrations will be accepted. Please bring a completed Registration Form (PDF) to the registration desk. Location and on-site registration hours and information will be available shortly.
Join TMS now at the annual rate and get 3 months free! Discover a wealth of information on electronic materials and resultant devices and enjoy all the benefits TMS membership offers:
Print and electronic subscription to JOM, the magazine that explores the traditional, innovative, and revolutionary issues in the minerals, metals, and materials fields
Members-only discounts on additional publications such as Metallurgical and Materials Transactions A and B
Electronic subscription to TMS Letters, a peer-reviewed journal consisting of two-page technical updates of research presented at TMS meetings but not published elsewhere
Networking opportunities with a prestigious membership through international conferences
Discount on TMS publications and conference fees
Access to TMS' searchable online membership directory
Plus an array of other benefits and services!
You'll enjoy these benefits for the remainder of 2005, and all of 2006! Complete a TMS membership application and return it to TMS' registration desk during the conference with the membership fee. You may also mail your application to TMS, 184 Thorn Hill Road, Warrendale, PA 15086, USA. For more information, e-mail membership@tms.org, or call (724) 776-9000, ext 259.
A written request must be sent to TMS, 184 Thorn Hill Road, Warrendale, PA 15086, USA, postmarked no later than September 19th, 2005. A $75 processing fee is charged on all cancellations.
FOR MORE INFORMATION . . .
For questions concerning registration, please contact:
TMS Meeting Services
184 Thorn Hill Road
Warrendale, PA 15086
telephone (724) 776-9000, ext. 243;
fax (724) 776-3770;
e-mail mtgserv@tms.org.